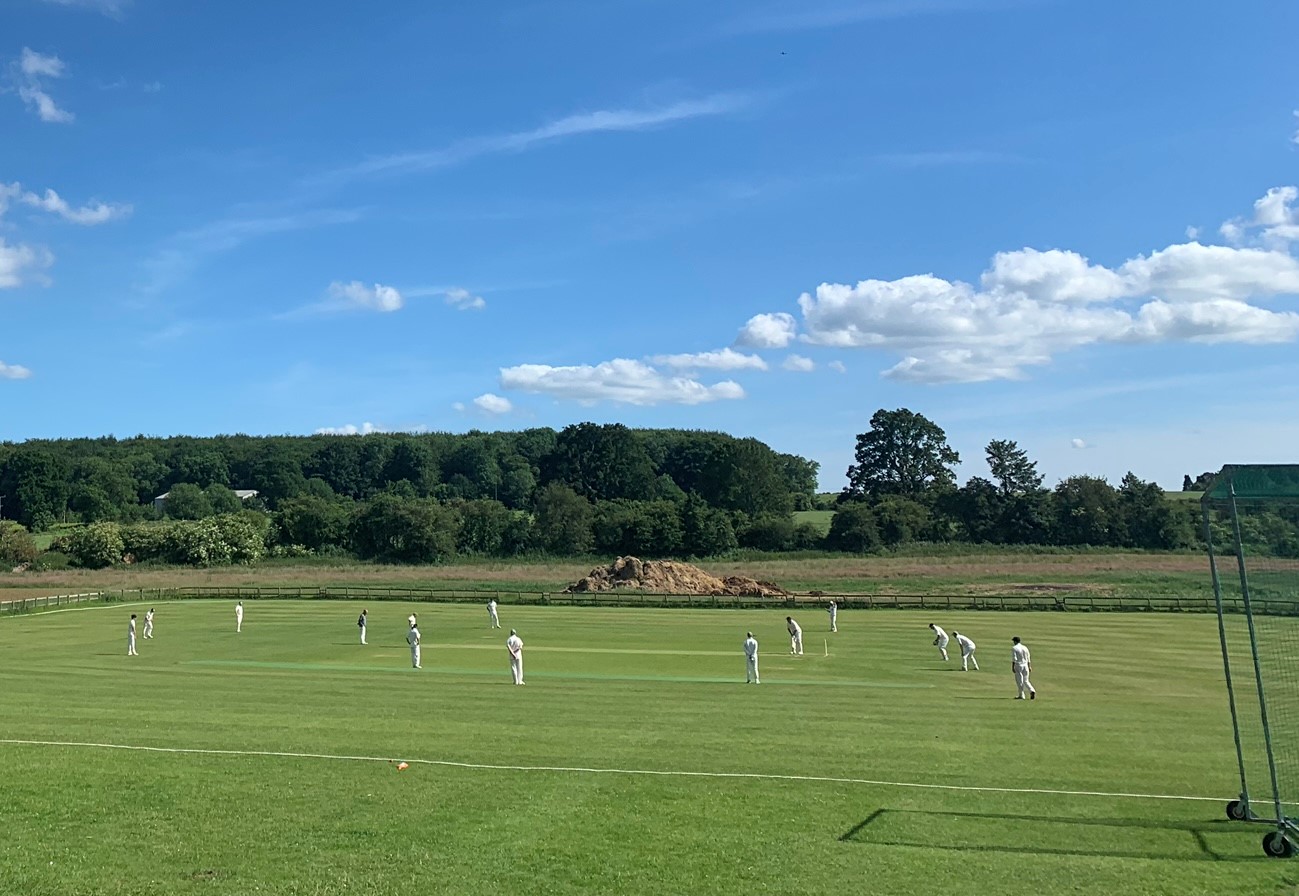 After a blistering middle part of the week, the heatwave has subsided and rain is on the weekend menu. With an 80% chance of the wet stuff, it will be a case of hoping for the best in what could be a pivotal day for The First XI.
They host mid table Bishops Waltham tomorrow after a rampant return to form last week and despite the holiday season, The Oaks look in good shape. Mickstock Wood is back in the side after his fantastic innings v Odiham Two's last week, with Dan  'Sick Down the Chairman's Neck' Jones dropping down to six.
The irrepressible, opposition annoying, Ian Bennett, is also back in the fold, taking the place of Will 'Monty' Montgomery, whilst Ronnie 'Export' McCewan is back in for Tom 'Bomber' Barnes. Otherwise it's as you were, with a strong looking line up that will be trying to win with a good points haul to make up more ground after their mid-season slip.
However, there are not many easy to beat teams in this league, and Waltham are bound to have decent players who can test us to the maximum.
With RAM and  F IBM Hursley playing each other, it is a big day for The Oaks. A good win will strengthen our position in the top two.
Team: Hennessey, Sumner, Wood, Bayliss, Tiley, Jones, Compton-Bearne, Bennett, Brundle, Welsman, McEwan.
The Two's, still recovering from last week's glorious failure at Odiham, will be looking to bounce back v Ropley. There won't be many mentally or physically (Ollie 'Mouthands' Rabley) scarred players on show, as George has made six changes, forced and unforced.
Steve Bownster is back in at 4, youngster, Josh Carpenter is rewarded for his continued improvement whilst Fawad Amir and Tom Barnes are also in, both offering excellent pace options. Most notable on the team sheet is our very own Kalum 'That's out Hahaaa' Sappumanage, who will be welcomed with open arms; it will be great to see him.
Replacing Bob 'The Boundary Sweeping Express' Lethaby in the coveted number 11 slot, is Deano 'Gerry, our captain, got a double ton' James, who will, as ever, talk a good game. As ever, Deano will take a catch that will leave everyone in stunned silence, including him…at least until he gets back to the club house.
The Two's are now entrenched in mid table obscurity with promotion and relegation both written out of the equation. They are now very much a team to push along the First XI, with any good performances helping to strengthen the club as the holiday season goes into full flow.
With pressure lifted it is a great time for players to go out and find some form without getting too concerned about result.
Team: Savage, Warner, Saines, Bown, Lethaby, Cheyney, Amir, Carpenter, Sappumanage, Barnes, James
With it being the first week of the school holidays, the numbers game was always going to potentially damage numbers for the Third XI. However, Dan 'Trash the Changing Room' Beckell has managed to get a decent side together and will be hoping to build on last week's win v Aldershot.
Ashford Hill are the guest and their league position suggests this should be a good little contest between two teams separated by 0.5 of a point. To describe it as a potential thriller would be needlessly grandiose but with mid table up for grabs, you never know but I doubt it.
What is more important is that last week's win boosted morale and two on the bounce could set the lads up for an impressive end to the campaign with table climbing nose bleeds breaking out all over the place.
Team: N Beckell, D Beckell, P Carpenter, M Clift, R Kancharla, McEwan, Bowers, Spalding, Ruttman, Tall Jeff, Coulter
And finally…as they say on News at Ten.
Can I just say, a big well done to the captains who have stuck together all season and ensured that until now at least, we have had 3 teams on the pitch every week. For our first season with three teams, that is an achievement beyond our expectations.
It has also meant that everyone who has wanted to play has got a game most weeks, so it has been a highly valuable exercise as we look to sustain, and grow steadily as a club. Also, the First XI would not be achieving what it is without being pushed along from below.
Three teams, one club.
I'll stop now, as I might cry…
Right then handbrakes off, into first gear and pray we don't need the wipers…by the way, did I tell you about my new weather app…?